Basic Information of UPC Barcodes
Traditional retailers and online marketplaces require accurate product identification. There are standardized global identifiers known as UPC barcodes (UPC codes) that allow products to be sold, reordered, and tracked through supply chains. UPC barcodes are the root of accurate product identification for it is where everything is based on.
What are UPC Codes?
UPC is an abbreviation for "Universal Product Code". Despite the term "UPC Code" being completely redundant, it is still commonly used to describe the UPC barcode symbol. The barcode contains a 12-digit number called a GTIN-12. As described below, the GTIN-12 is crucial for it includes the UPC data acquired primarily from a GS1 Company Prefix and Item Reference Numbers.
012345 – Assigned by GS1 to uniquely identify brand owners needing to mark items with UPC symbols.
67890 – Assigned by the brand owner to reference a specific item.
5 – The 12th digit is a calculated digit on a MOD check digit calculation from the preceding digits.
What is a GTIN, and GTIN-12?
GTIN is a family of GS1 (EAN.UCC) global data structures that utilize 14 digits and encoded to different types of data carriers. As of now, GTIN is entirely used for barcodes. However, it is also used in other data carriers, like radio frequency identification (RFID). GTIN is only a term and does not affect any standards, nor does it have any additional requirements on scanning hardware.
The family of data structures incorporating GTIN include:
GTIN-12 (UPC-A): is a 12-digit number used mostly in North America
GTIN-8 (EAN/UCC-8): is an 8-digit number used primarily outside of North America
GTIN-13 (EAN/UCC-13): a 13-digit number that is also used primarily outside of North America
GTIN-14 (EAN/UCC-14 or ITF-14): a 14-digit number used to distinguish trade items at different packaging levels
What is a Barcode?
A barcode is a visual symbol that is used to carry data. Usually, the characters in a barcode contain bars and space patterns. The most common linear barcode is the UPC-A barcode. There are also other kinds of barcode languages, such as Roman character sets with English and French, and different barcode languages use bars and space patterns to carry data.
What is a GS1 Company Prefix?
Assigned to each company is a unique company identifier that is the basis of the GTIN identification system. The standards organization that supervises the numbering and guidelines for product identification is known as the GS1 Global. In over 104 countries, there are local GS1 offices whose primary role is to license GS1 Company Prefixes to companies that reside in their state. Each country has its own pricing rules for licensing GS1 prefixes, usually based on the total number of products that a company needs to distinguish.
Suppliers of retailers and marketplaces are required to have a GS1 Company Prefix licensed to their brand. Since accurate and unique product identification is crucial to retail supply chains, major retailers and online marketplaces do not accept UPC barcodes that do not have correctly licensed prefixes.
How many UPC Codes do I need for my Products?
Individual products that you are planning to sell require its own unique UPC Code. Each variant of the product, like sizes and colors, will also need a unique UPC Code.
UPC vs EAN barcode
As stated earlier, UPC stands for "Universal Product Codes" as EAN stands for "European Article Number". Before 2005, manufacturers were confronted with a problem, US used UPC while 13-digit EAN barcodes were used internationally. EAN barcodes are similar to UPC but have a leading "0" thus making
the digits 13. UPC usually did not cause problems to overseas POS systems since it contained 12 figures, the EAN barcodes however, can not be read by US stores. All of the EAN country organizations and the UCC (Uniform Code Council) came together to create GS1.
Today's scanners are now able to read both EAN and UPC barcodes, although US Companies are required only to use the UPC Barcode.
GS1 – 128 Shipping Labels
GS1-128 (Global Standards 1) shipping labels are logistic labels that enable shipment clarity within a supply chain. These labels are broken down into zones, and each zone is determined by text or barcode information in their designated area. The H zone is used to host the SSCC-18 barcode (Serial Shipping Container Code), which is a 'license plate'. Other zones are set by the trading partner, containing information or barcodes that sustain the requirements of their supply chains.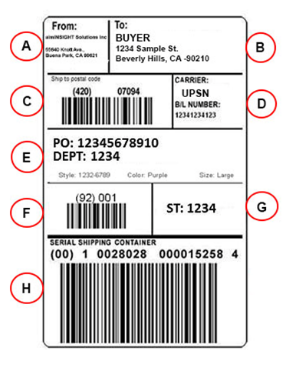 A. Sender Name and Address
B. Recipient details
C. Barcode for zipcode from ship to address – carrier information specified by courier moving the shipment.
D. Carrier Name and Tracking Number
E. PO Number – 10 digit (numeric). It should be readable. Another option is putting a barcode and Department number before the PO number.
F. 7 digit facility number in barcode form
G. Readable facility Number – 7 digit (numeric)
H. SSCC (Serial Shipping Container Code) – 18 digit with application ID "00"
Use of GS1-128 Label and its Basic EDI Workflow:
Purchase Order (850) issued to a supplier
The supplier accepts Purchase Order (850) and generates the shipment.
Supplier defines the packaging hierarchy (carton, pallets, trailers) and a 'Serialized Shipping Container Code' SSCC-18 assigned for each: carton, pallet, or trailer. The packaging level that has an SSCC-18 is based on individual retailer requirements.
Supplier process Advanced Ship Notice (856) and includes SSCC-18 that will identify each: carton, pallet, or trailer.
When the shipment arrives at the retail receiving location, it is received by scanning the GS1-128 Shipping Label and linking it with an ASN (856). This process effectively permits a retailer to accept and move shipments within their supply chain without needing to open or manually check each shipment.